The Tällberg Foundation hosted a workshop in Vamvakou, Greece on May 7 – 8, 2022. The workshop program centered on two full days of conversation about how to get from where we are as the pandemic loosens its grip to where we need to be as a functioning, global society. What have we learned in our isolation? How do we translate that learning into action? Is re-focusing on global—analysis, solutions, and action—the only way to get there?
Vamvakou is a village in the Peloponnese, Greece and we partnered with the Vamvakou Revival team in a productive collaboration that came about through our lead supporter, the Stavros Niarchos Foundation (SNF).
Listen to parts of the program through our podcast New Thinking for a New World.
---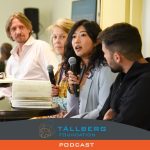 Are You Listening?
One of the ironies of the 21st century is that even though everyone on the planet seems to have a cell phone and to be actively connected to social media, too many people seem voiceless or, at least, don't think their voices are heard.
What's going on? Who is voiceless, and why? Is the problem that too many are voiceless or that too many are not listening?
Maybe unanswerable, but we asked some people to try. Listen to the conversation among Baiqu Gonkar, a Tibetan activist working at the intersection of technology, art and social good; Francis Hildebrand, a Colombian environmentalist working to sustain the Amazon; and Mike Niconchuk, an applied neuroscientist working with conflict-affected populations particularly in the Middle East. Diane Osgood, social impact strategist, moderated the discussion.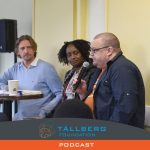 Don't Fool with Mother Nature! 
We live in an era of accelerating, disruptive climate change. This isn't about the random bad storm, but about systemic, dramatic shifts in climate. Change is everywhere, with catastrophic consequences that every credible forecast says will worsen.
But how can we understand the reality of those changes? What's likely to happen next, and what can we do about it?
To look for answers we recently organized a conversation among Ugandan veterinarian Gladys Kalema-Zikusoka, Colombian Amazon expert and a friend of its indigenous people Francisco Hildebrand, and Finnish fisherman, scientist and village head man Tero Mustonen. All are deeply knowledgeable about the realities of their ecosystems, and even more deeply committed to finding solutions to the challenges thrown up by the changing climate. Our discussion was moderated by Maarten Koets.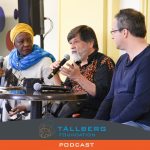 Speaking Truth to Power in the Real World
At a time when autocrats are rampaging and our democracies are weakening, the need for citizens to defend their rights has never been greater. But, does speaking truth to power matter in the real world? While we celebrate the bravery and eloquence of those who stand up to injustice and overweening authority, too often the bad guys seem to win. What would it take to change that outcome?
The Tällberg Foundation recently hosted a conversation among three of the good "guys:" Kenyan poet Sitawa Namwalie, Bangladeshi photographer and activist Shahidul Alam, and American human rights lawyer Jared Genser. Their discussion was hosted in Vamvakou, Greece by the Vamvakou Revival and SNF (the Stavros Niarchos Foundation).
Listen as they discuss the reality in the trenches of the fight for human rights.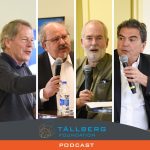 Ukraine Changes Everything
Russia's war on Ukraine changes everything. But the damage is not limited to Ukraine and to Russia. The knock-on effects include increased inflation and reduced growth around the world. Most importantly, the war seems to be the straw that is breaking the camel's back of the post-Cold War world order, with unpredictable consequences.
The Tällberg Foundation recently hosted a discussion that touched on many of these issues. The speakers were Alan Stoga, Tällberg's chairman; Pierre Lellouche, former French minister and politician; Nikos Xydakis, Greek journalist and former minister; Tomas Anker Christensen, Danish diplomat, who spoke in his personal capacity. The conversation was hosted in Vamvakou, Greece by Vamvakou Revival and the Stavros Niarchos Foundation (SNF).
This war is far from over and its reverberations will be with us for a long time.