DO YOU KNOW AN OUTSTANDING, ETHICAL, GLOBAL LEADER?
You are invited to nominate a global leader for the 2023 Tällberg-SNF-Eliasson Global Leadership Prize. We are looking for leaders who demonstrate the willingness and capacity to address the complexity of 21st-century realities in innovative, risk-taking, and value-based ways, and whose work is global in aspiration or implication. The nomination period ends on May 15, 2023.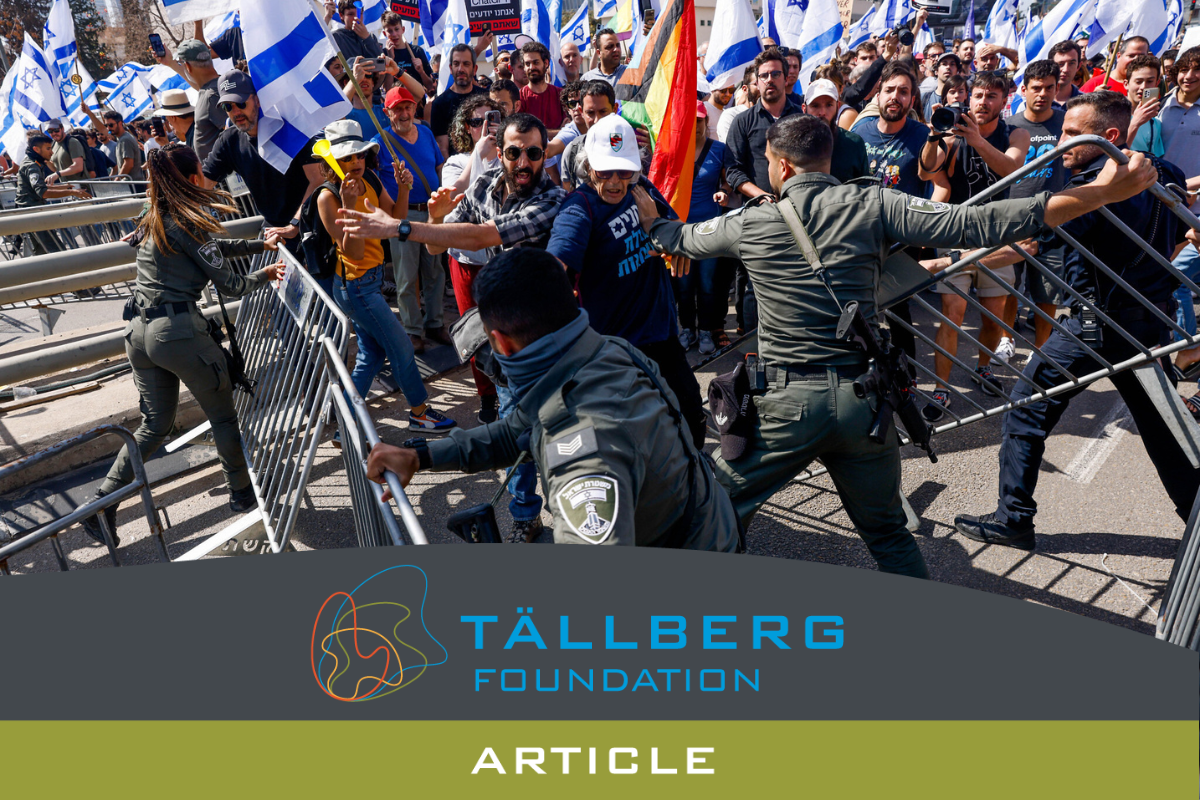 Israel's domestic crisis has only intensified since we published our podcast with journalist Neri Zilber on March 16.  More protests, more violence, more international condemnation and the controversial firing of Defense Minister Gallant.  Even though Prime Minister...
Working Across Borders
and Across Disciplines
If we are imaginative enough to make new connections, to see new pathways, or to look at the familiar from different perspectives, then the Tällberg Foundation conversations will have lasting value. And even better if they inspire new action.
Our Initiatives
We aim to contribute to the new thinking —and new acting— required by this moment in history.
Tällberg's work program focuses on understanding how to re-inject ethics into leadership; re-establish the legitimacy of governance; and manage, instead of being managed by, disruptive technologies, climate change, mass migration and other phenomena. We seek new thinking for a new world.
Who helps make this possible?
About the Stavros Niarchos Foundation (SNF)
The Stavros Niarchos Foundation (SNF) is one of the world's leading private, international philanthropic organizations, making grants to nonprofit organizations in the areas of arts and culture, education, health and sports, and social welfare. SNF funds organizations and projects worldwide that aim to achieve a broad, lasting, and positive impact for society at large, and exhibit strong leadership and sound management. The Foundation also supports projects that facilitate the formation of public-private partnerships as an effective means for serving public welfare.
Since 1996, the Foundation has committed more than $3.5 billion through over 5,200 grants to nonprofit organizations in more than 130 countries around the world.
Learn more at SNF.org.
Would you like to make a contribution?
Subscribe to our newsletter