"I don't see us Europeans taking hold of our future…technologically and economically we are totally torn up between United States and China. We may turn out to be only the battlefield for that competition.  That's tragic for what we represent as a civilization in Europe." — Pierre Lellouche
When Pierre Lellouche, veteran French politician and minister, looks at the global situation he mostly sees shades of black. The problems today "are staggering, and the picture looks bad…the mixture of a pandemic, China-US competition, huge demographic change, Islamic pressure, weakening of democratic values…[are] a recipe for a lot of trouble in the near future, not long-term," he says. And Europe? "We have lost the competition in just about every domain."
In a recent New Thinking for a New World podcast, Lellouche identified both cyclical and structural forces that are shaping conditions in Europe and beyond. Of course, the pandemic is the immediate context which, he points out, has been badly handled by the European Commission as well as by national governments. "I am struck that the bad guys—Trump, Boris Johnson, Netanyahu—have been able to handle this crisis infinitely much better than the good guys in Europe—Macron, Merkel, Ursula von der Leyen and so on, who have been highly bureaucratic, slow, incompetent." He points to the lack of European vaccine-making capacity and the slow, confused roll out of the actual vaccination process. The result is that individual countries are scrambling to find their own solutions, "because the system has not responded well."
Lellouche worries that the pandemic may be prelude to a social and political backlash. "Expect to have very violent reactions after the pandemic," he warns—citing similar explosions after the Spanish flu of 1918-20 and the cholera epidemic in France in the 1830s. Indeed, he expects the post pandemic world to see increased tension between the authoritarian model of the Chinese (he points out that, in contrast to the Chinese claiming the pandemic as a huge success, not even the Soviets had the gall to try to turn Chernobyl into a public relations coup) and the evident struggles of democracies. "Inside democratic countries you will have a great deal more tension as a result of economic suffering plus increasing racial tensions…Society is being split in little pieces, not around democratic values or social interests, but race or even tension between men and women, which is just mind boggling, very strange."
More than that, though: "It's a sign of major impoverishment of our public life, when the only thing you have to fight about is the color of a human being. I think you've completely lost the sense of where the society going," says Lellouche.
All of this is compounded by shortcomings in Europe's reactions to larger global forces. "We have essentially missed the third industrial revolution, it's all in America and in China, and we're lagging behind, with the risk that Europe is going to be the center of the confrontation between China and America." Lellouche returns repeatedly to this fear that Europe will become a kind of battlespace where the defining geopolitical tension of the era will be played out. On the one hand, "China is not treating us as friends. Look at the pandemic, look at the way they are doing business, they are really carving Europe into little pieces, buying here and there elements of the continent."
On the other hand, "the U.S. internally as a nation is gradually losing its roots with Europe. The people are different, the composition of the American people is moving further away from their European roots." The natural result, he says, is a continuing shift in America's focus away from the Atlantic to the Pacific. That loss of interest started long before President Trump and is unlikely to be reversed by President Biden, he insists; the much discussed return to normalcy under Biden really means a return to "a great deal of indifference" by the U.S. for Europe.
The American habit of trying to extend its laws globally adds to the tension with Europe. When "you cannot send an aircraft, you use sanctions and you punish not only American companies, but you punish everybody, including French banks, German banks, so on…. You cannot ruin your allies' economy and expect them to be your allies." The overuse of sanctions by Washington, not only adversely affects US business interests, but "loosens the alliance and creates a boulevard for Chinese penetration into Europe."
By way of example, he points to the ongoing U.S. efforts to stop the nearly completed Nord Stream 2 pipeline. He says that, although there may be plenty of good reasons to kill the pipeline, doing so would create havoc in the American relationship with Germany and the rest of Europe.
All of this ought to be an opportunity for Europe to define a vision and strategy and to act, but Lellouche is skeptical. Indeed, he says, "Europe is nowhere to be seen even on its own borders," ticking off the lack of significant European response to the crises in Libya, Syria or even Turkey in the Eastern Mediterranean…And we let Putin get away with whatever he wants!"
Why? On the one hand, lack of leadership and a shared vision; on the other hand, the European Union has become too big, too unwieldy, and unable "to produce decision making that works."
"I was [French] minister for Europe. It's a very strange situation when you sit around that ministerial table: it's as big as a basketball field, and your colleagues, you see them on a television screen because they are too far away." Each minister gets two minutes to talk, which produces only paralysis in the name of national equality.
What can be done? At this point, Lellouche is not looking for—probably he does not expect—big solutions. He rejects the idea of a "United States of Europe" as lacking historical roots in Europe.  Instead, he advocates for something more grounded: "We can pull certain competencies together in certain areas. But the most you will get, ever, is some kind of a confederation. And if it's a confederation, let's make it lighter and more efficient."
Decades of leaning against great forces can be wearying. At the end, though, even Lellouche can find some hope: "Europe is a very old civilization and we will find a way to go over these problems."
Fade to black…
---
Let us know what YOU think and leave your comment below
Pierre Lellouche recently spoke with Alan Stoga as part of the Tällberg Foundation's "New Thinking for a New World" podcast series. Hear their whole conversation here or find us on a podcast platform of your choice  (Apple Podcast, Spotify, Acast, Stitcher, Libsyn, etc).
---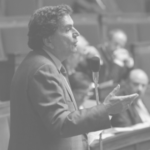 Pierre Lellouche, after a long career in the French Parliament (five consecutive terms, 1993-2017) and several appointments in the executive branch, is currently Associate Partner of the Agora Strategy Group, a consulting company with offices in Munich, Berlin, Brussels and Paris, and President of the NGO 'Les Chantiers de la Liberté". Pierre Lellouche was educated at the University of Paris-Nanterre, Sciences Po and Harvard Law School (LLM, 1974, SJD 1978, Doctoral thesis on the internationalization of the nuclear fuel cycle). A specialist of foreign affairs, he was a co-founder of the French institute for international relations (IFRI) and became diplomatic adviser to Jacques Chirac (1989-1997). He was elected President of the NATO Parliamentary Assembly (between 2004 and 2006) and French Special Envoy to ITER negotiations (thermo-nuclear fusion experimental reactor, 2003-2005). Later on, he was French Special Representative for Afghanistan-Pakistan (2008-2009), Minister for Europe (2009-2010) and Foreign Trade Minister (2011-2012). He is the author of numerous books and articles in national and international politics. His latest publications : Une guerre sans fin, éditions du Cerf, Paris and a parliamentary report on the extraterritoriality of American laws and compliance, 2016.