"We have entered a world which we've not experienced for a long time …  The most populous nation in the world is acquiring the economic and military and political might to go with that size."
"You cannot make global politics or globalization something apolitical. You cannot take the politics out of human life and human engagement." —Robin Niblett
Shifting geopolitical tectonic plates. China rising. America turning inward. Brexit changing the balance of power in Europe. "The world is in the process of a profound shift," declares Robin Niblett, director of London's Chatham House, one of the most prestigious global think tanks. "We have hit a moment now where the scale of China's rise over the last 20 or so years … the weight that it brings now, both to global economics, finance, and increasingly, politics, means that we have entered a world, which we've not experienced for a long time, of two clear superpowers."
In a recent New Thinking for a New World podcast with host Alan Stoga, Niblett goes on to argue that the relationship between the superpowers is beginning to move beyond bilateral, which was already complex, to one that has truly global implications. Does the seemingly inexorable rise of China portend a new Cold War? Niblett believes the Chinese leadership has carefully studied the demise of the Soviet Union. "I think we have in China a superpower that's aware of the risks to its own security and its own future of overplaying its hand," he says.
"China is deeply integrated into the global economy, something that was not the case with the Soviet Union. But there is something ideological about its rise, which is its belief in the primacy of the state over the individual. This runs so much counter to the Western system … in which the state is meant to serve the individual, and where the checks and balances of our systems of government between judiciary, executive branch, legislative branch, media, et cetera, are meant to be the guardians."
That fundamental difference worries Niblett, who says, "We may be in the foothills of an ideological contest that would then start to carry some of the images or mirrors of the Cold War … despite China's efforts not to let that happen." He suggests that the full integration of China into the global economy—which was, until recently, the objective of most Western countries and a fundamental assumption underlying the plans of most business leaders—may not be possible. Instead, the world appears to be heading toward "something more contested."
Of course, a broad re-balancing of the West's economic relationship with China would seriously redraw the contours of globalization. "There is … pushback against globalization," Niblett says. "Partly the fear that China will dominate it and pervert it, partly the fear brought about by the COVID-19 pandemic that we cannot afford to be as interdependent as we have been."
But Niblett sees a huge offsetting force to these fears: the need to preserve a resilient middle class in Western societies. "How do you sustain a wealthy and growing middle class in the West, in China, in emerging markets, in Latin America, across Asia Pacific, and at the same time give up the globalization, the specialization, the flow of investment, the flows of money, the flows of jobs that went with it? … If we were to stop the globalization process today, we will be leaving at least half the world's population, probably two thirds of it, in a form of poverty. That would lead us to a Mad Max world."
But systems need leadership, and Niblett points out the irony "that the two countries that were in the vanguard of globalization—the ones who define the term Anglo-Saxon economics, low regulation, open market, free movement of capital, the tooth and claw form of globalization—the U.K. and the U.S.—are the two that seem to have pulled back most violently from its continued expansion." He points out that "the narrative of 'America first' and of 'Take back control' [in the U.K.] was playing to this human sense of insecurity when faced with the pure openness of globalization. … Globalization and peace don't necessarily go hand-in-hand if citizens start to feel insecure. And if they feel their governments cannot protect them, which is the ultimate thing you ask from your government, then very dangerous things start to flow after it."
Niblett, who studied and worked in the United States, seems more worried about the trajectory of America than of his native Britain. "Just looking at America over the last six months," he says, "looking at the rise of gun sales, looking at the kind of rhetoric that is spilling out, and looking at America's very unique political history as a group of individuals … not willing to accept repressive governments … I'm worried about what could happen to America internally."
He is more optimistic about the future of Britain. "Economically there is no reason why in five years the U.K. should not be growing at a decent pace, a pace commensurate with its position as a developed economy with a pretty innovative tech sector relative to many other parts of the world; with a young and still growing population, which is quite different to most of continental Europe; that would be open to foreign investment; and, despite everything that was said around the Brexit vote, will be pretty open to immigration." Niblett quickly adds that he opposed Brexit and that "Britain did not need to leave the EU" to reboot its economic and social dynamism.
Nonetheless, the American and British retreat from the vanguard of globalization will have important consequences. In particular, allies in Europe and beyond will have to wean themselves off over-dependence on United Sates leadership. "We need to acquire a greater global resilience than this constant dependence on U.S. leadership… I think it's healthy for world institutions to learn how to operate without having to rely on America." He insists, "We can cope." 
For Britain, coping will mean finding a new role for itself outside the EU. "The U.K. is going to have to be incredibly disciplined and creative to turn itself into a constructive midsized player that doesn't have the kind of clout that I think the Brexiteers believe it has," Niblett says. "The world is not sitting there like an open oyster waiting for Britain to dive in and do brilliant Brexit-y stuff to it. The world is going to be skeptical of Brexit Britain. … The spirit that animated Brexit was buccaneering and individualism, but the Britain that the world needs is one that's a team player and that's inclusive."
Post-Brexit Europe also will have to change, he predicts. "The EU will be a bit more conflicted … because it's left with the Franco-German divide over the future of Europe. Germany wants a more federally integrated, politically integrated Europe. France wants a Europe that allows France to be stronger and the member states to be stronger. And that divide permeates the EU. It spreads into the Central Eastern countries who tend to be skeptical and into some political parties … in Italy and France and Netherlands."
Niblett worries that none of this bodes well for peace or prosperity "at a time when the world desperately needs constructive players internationally." Nonetheless, he insists, "I am by DNA optimistic." He says his optimism rests on three pillars, that reach well beyond the usual remit of a geo-politician:
The next generation, who are "unwilling to be pigeonholed in old political tropes";
The increased presence of women in leadership, since a "50/50-led world in politics, in business, in all walks of life" would be more sustainable and resilient;
Rapidly evolving technology that, "combined with human ingenuity, is providing answers to things we never thought could be fixed in the past."
Niblett's bottom line is simple: "It's up to all of us to do our bit to ensure those positive forces win out over the old stuff that I think the Donald Trump presidency represents." 
Amen to that.
---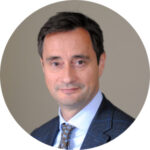 Dr Robin Niblett CMG has led Chatham House since January 2007. Previously he was executive vice president and chief operating officer of the Center for Strategic and International Studies (CSIS) from 2001 to 2006.
During his last two years at CSIS, he also served as director of the CSIS Europe Program and its Initiative for a Renewed Transatlantic Partnership.He is a frequent panellist at conferences and events around the world and has testified on a number of occasions to the House of Commons Defence Select Committee and Foreign Affairs Committee, as well as US Senate and House of Representatives committees on European Affairs.
He received his BA, MPhil and DPhil from Oxford University.