In this episode we're going to explore why democracy and good governance are so rare in East Africa and what leaders like Peter Biar Ajak can do to change that reality.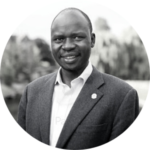 Peter Biar Ajak is the Chairman of the South Sudan Young Leaders Forum, Senior Advisor to the International Growth Centre, and Founder of the Juba-based Center for Strategic Analyses and Research.  Peter was previously the In-Country Economist for the World Bank and Coordinator of Policy and Strategy in the Office of the Minister of National Security in the Office of the President.  In these roles, he facilitated the creation of South Sudan Development Plan, South Sudan Growth Strategy, and South Sudan Vision 2040 and he drafted South Sudan's White Paper on Intelligence & Security, the National Security Policy, and the National Security Act. Before that, as South Sudan's independence referendum approached in 2011, Peter founded South Sudan Wrestling Entertainment (SSWE), a private company that uses the South Sudanese indigenous sport of wrestling to promote peace and reconciliation among the tribes of South Sudan. Peter received his BA in Economics from LaSalle University, Master of Public Administration in International Development (MPA/ID) from Harvard University's John F. Kennedy School of Government, where he was a Public Service Fellow, and will receive his PhD in Politics & International Studies from Cambridge University in October 2020. He spent 18 months in jail as a political prisoner for his criticism of South Sudan's president, Salva Kiir.
---
South Sudan celebrated its hard-won independence in 2011, but today is considered one of the most fragile, even failed states in the world.  What went wrong?  Why are democratic governance and prosperity so elusive for the people of Sudan and much of the rest of the Horn of Africa?
Peter Biar Ajak has answers and ideas for a better future. Ajak—a South Sudanese political activist, economist and former political prisoner—recently fled to asylum in the United States. He spoke with Alan Stoga in this episode of New Thinking for a New World.
Let us know what YOU think and leave a below.
Listen to the episode here or find us on a podcast platform of your choice, (Itunes, Spotify, Acast, Stitcher, Libsyn, etc).