Cardinal Czerny argues that any approach to Covid-19 that does not include those most vulnerable among us is a non-solution. Who then seems to have overlooked these people?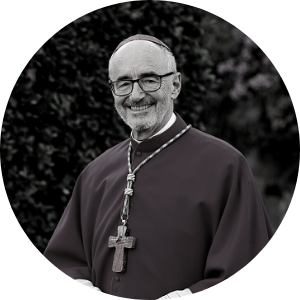 Card. Michael Czerny S.J. was born on 18 July 1946, in Brno, Czechoslovakia (today the Czech Republic). Following his 1963 graduation from Loyola High School in Montreal, he joined the Society of Jesus (the Jesuits).
On 9 June 1973 he was ordained to the priesthood. From 1992 to 2002, Czerny served as the Social Justice Secretary at the Jesuit General Curia in Rome. He then founded and directed the African Jesuit AIDS Network from 2002 to 2010, collaborating with the Bishops' Conferences throughout Africa and occasionally teaching at Hekima College in Nairobi.
In Rome again, from 2010 to 2016, he served as advisor to Cardinal Peter Turkson, President of the Pontifical Council for Justice and Peace. Since the beginning of 2017 he has been one of the two Under-Secretaries of the Migrants and Refugees Section of the Dicastery for Promoting Integral Human Development. On 1 September 2019, Pope Francis named him among the 13 new Cardinals.

---
Why do we seem unable to work together to manage our common home? Is the Covid pandemic considered "global" while Ebola was not, because Covid has laid waste to rich countries, while Ebola did not? Is the failure of governments that we see almost everywhere actually the failure of citizens for not demanding more of their leaders?
Cardinal Michael Czerny, who heads the Vatican's work on refugees and migrants, offers uncomfortable answers in this "New Thinking for a New World" conversation with Alan Stoga.
Let us know what YOU think and leave a below.
Listen to the episode here or find us on a podcast platform of your choice, (Itunes, Spotify, Acast, Stitcher, Libsyn, etc).