A conversation with Constanze Stelzenmüller
During the past months, Russia has steadily ratcheted up military pressure on Ukraine and tried to leverage that build-up to demand that Washington revamp the European political and security map that has evolved since the dissolution of the Soviet Union.  Almost daily, American, British, and European officials warn of new Russian deployments, of possible staged provocations, or of imminent invasion.  In turn, President Putin and his ministers deny any hostile intention in the deployment of more than 100,000 troops on three sides of Ukraine.  At the same time, they demand that the West—especially the United States—roll back what the Russians describe as unacceptable incursions into "their" sphere of influence.
"We are in a standoff," says Constanze Stelzenmüller, a close observer of geopolitics based at the Brookings Institution in Washington.  "And, while there are diplomatic maneuverings now, I'd say the likelihood of military action is now above 60%."  For their part, "Western policy makers including Americans and Germans, have been working closely to design an array of economic sanctions" to deter or punish "hostile action by the Kremlin."  Sanctions that could have huge blowback on Europe, especially on Germany which relies on Russia for more than 40% of its natural gas imports.
What is this slow-motion car crash all about?
In a recent New Thinking for a New World podcast, Stelzenmüller said that the proximate question is "Whether we are willing to countenance the violation of the right to sovereignty and the right to choose of a country by an authoritarian great power."  But the ultimate issue is far bigger: "This is no longer about the neutrality of Ukraine, but is really about America's presence as a European power and about Europe's relationship with America in defense terms and in political terms.   Putin's demands amount to "rolling back the Europeanization of Eastern Europe and Central Europe…the democratic transformation of the former Warsaw Pact Nations after the dissolution of the Soviet Union, and ultimately about pushing America out of Europe."
She describes the Kremlin's rhetoric and demands as "outrageous and untenable…delivered in content and in tone and in style as an automat, meaning…there is nothing to negotiate here, or there will be conflict."
One obvious question is why the Russians are making such a high-risk gamble, risking war as well as what American officials have repeatedly described as sanctions that would have "massive consequences" for Russian's economy?  Stelzenmüller thinks that the Russians see Western weakness as an opportunity for strategic gain.  "I think the Kremlin and Putin…look at an American president who appears to be politically on the defensive against an insurgent hard right. Look at a French president who is struggling against an insurgent hard right. Look at a Germany struggling with the COVID crisis. And also at people marching in the streets and questioning the legitimacy of governance…across Europe."
But she also wonders about Putin himself.  "I'm asking myself whether the man in the Kremlin hasn't sort of lost it a bit. Whether he isn't so consumed by obsession with history and resentment and a need for revenge." Can such a person even imagine the possibility of compromise?
She insists that, "the Kremlin has for months now been prodding and probing what it thinks of as the chinks in the Western Alliance… using massive amounts of disinformation and propaganda in social media and in Western media."  Towards what end?   "The goal of sowing confusion, fostering disunity, and exhausting Western cohesion," she says. Her concern is that Putin may strike when "we are too confused and exhausted to react appropriately," expecting the West will then simply "fall apart."
Of course, that does not have to happen.  So far, she says, "the Western reaction is rock solid," mostly referring to what she calls "the policy machine room" in major Western capitals.  One of the reasons why that is the case is that "so far the Kremlin's rhetoric and the Kremlin's actions have been so outrageous and so untenable that they have in fact bound the West together."  However, she worries about disarray at the political level, especially in Germany among politicians new to government and within the governing coalition but not actually in the cabinet.
Stelzenmüller says what is needed now is for Western leaders "to be imaginative, to be adaptive, to think ahead and—above all—to maintain message cohesion" thereby minimizing the opportunities that Putin is trying to exploit.  In practice that means that "We demonstrate that actually we value our freedoms and our democracies…and stand up to this…It's about Ukraine, but also about us and about our future as a democratic alliance."
Unfortunately, that's a tall order for countries riven by extreme partisanship, electoral contests, and the lingering consequences of the pandemic.  The good news, she insists, is that Russia "is forcing all of us to reconsider…why we are allies, why we're democracies and why we have to stand together against threats such as these."
In that spirit, if somehow the crisis passes without compromising Western principles or without a Russian invasion, then there is much work to be done.  Stelzenmüller says that the West needs "to have a conversation about what it would take to make us more resilient to bullying by an authoritarian great power;" that European defense budgets and contingency planning needs to be made "more resilient;" and that European energy policy needs to be made less susceptible to the "weaponization of energy supply and gas prices."
Unfortunately, a lot has to happen—or not happen—before anyone has the luxury to think about long term strategies.  Will we get there?  Stelzenmüller is clearly very worried, "I don't think of myself as ultra-hawkish by any means. If I thought there was a credible way of resolving this situation by brokering a decent compromise between Russian demands and Western positions, then I would absolutely argue for it. But I don't see that."
Which is why she thinks the odds of war are above 60%—and rising.
---
Let us know what YOU think and comment BELOW
Constanze Stelzenmüller recently spoke with Alan Stoga as part of the Tällberg Foundation's "New Thinking for a New World" podcast series. Listen to the episodes here or find us on a podcast platform of your choice (Apple podcast, Spotify, Acast, Stitcher, Google podcast, Youtube, etc).
---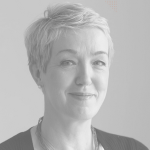 Constanze Stelzenmüller is the inaugural holder of the Fritz Stern Chair on Germany and trans-Atlantic Relations in the Center on the United States and Europe at the Brookings Institution. From March 2020 to December 2020, she was a senior fellow in the Center on the United States and Europe. She held the Kissinger Chair on Foreign Policy and International Relations at the Library of Congress from October 2019 to March 2020. She served as the inaugural Robert Bosch Senior Fellow at Brookings from 2014 to 2019. Prior to working at Brookings, she was a senior transatlantic fellow with the German Marshall Fund of the United States (GMF), where she directed the influential Transatlantic Trends survey program. Dr. Stelzenmüller is the former director of GMF's Berlin office. From 1994 to 2005, she was an editor for the political section of the German weekly DIE ZEIT, where she had also served as defense and international security editor and covered human rights issues and humanitarian crises. From 1988 to 1989, she was a visiting researcher at Harvard Law School. She has also been a GMF campus fellow at Grinnell College in Iowa, a Woodrow Wilson Center public policy scholar in Washington, DC, and a member of the Remarque Forum—a conference series of the Remarque Institute at New York University. Dr. Stelzenmüller holds a doctorate in law from the University of Bonn (1992), a master's degree in public administration from the Kennedy School of Government at Harvard University (1988), and a law degree from the University of Bonn (1985).