At the end of June the world witnessed the extraordinary sight of the paramilitary Russian Wagner Group literally marching on Moscow, allegedly not to replace Putin, but to cleanse the capital of "corruption".  Led by Yevgeny Prigozhin, former convict turned cook turned Putin confidant turned mercenary turned rebel, the four or five thousand men and tanks drove almost 700 kilometers into Russia mostly unopposed before suddenly reversing course.
Over time, we'll know a lot more about what happened. But Yevgenia Albats, distinguished Russian journalist now in residence at New York University's Jordan Center, recently shared details about Prigozhin's failed march in a New Thinking for a New World podcast.
Her punchline? Prigozhin is a "dead man walking." And Putin might not be far behind.  
Albats argues that the Prigozhin and Wagner story could only happen in the kind of corrupt autocracy that Vladimir Putin's Russia has become. Prigozhin owes his billion-dollar fortune to sweetheart governmental contracts lavished on him by Putin in return for unquestioned (until last month) loyalty and a willingness to do whatever dirty jobs his boss needed done. That included organizing a private army, the Wagner Group, that gave Putin plausible deniability for violent interventions everywhere from Crimea in 2014 (the infamous "little green men") to Syria, Libya, Sudan (where the Wagners control gold mining in Darfur), Central African Republic, Mali, etc.
"In Russia, by law, private military companies are forbidden; it's a crime.However, Putin needed something like that in order to conduct special operations where he didn't want to take any responsibility as the president or as the Russian State." Eventually, Albats says, the Wagners were sent to join the fighting in eastern Ukraine where, like the rest of the Russian military establishment, they suffered significant losses. But how those losses were made good differed dramatically.
The military was replenished through conscription; Wagner was made whole through another illegal Putin act: Prigozhin was allowed to recruit convicts, offering pardons and pay for 6 months in combat. As Albats describes it, "By Russian law, only Putin himself, president of the country, can pardon a convict. It was a total shock to the judiciary and to the prison system…So the latest incarnation of Wagner group has some very professional military and intelligence guys…but also thousands and thousands of convicts."
Meanwhile, Prigozhin went public with criticism of how the war was being conducted by Defense Minister Sergei Shoigu and leading generals. "It became obvious that Putin was using Prigozhin as a balance against the military, who became very important with the start of the war. It's always like that; if you conduct any war, the military becomes very important and dangerous to a dictator," explains Albats. At the same time, however, Prigozhin who had left Moscow for months in Ukraine, began to lose his intimate access to Putin. According to Albats, Putin governs partly based on what he hears from his closest supporters—and people like Nikolai Patrushev, Secretary of the Russian Security Council, began telling him that Prigozhin was going rogue and damaging Putin, never mind Russia. Suddenly, Putin stopped taking Prigozhin's phone calls which Albats explained is usually the beginning of the end in a system like today's Russia.
In the tit-for-tat that ensued, Prigozhin publicly demanded the firing of several generals, arguing they didn't have Putin's or Russia's best interests at heart; Putin responded with decrees removing Wagner's ability to recruit in prison and forcing it to become part of the Ministry of Defense. Prigozhin then gathered some troops and headed first to Rostov-on-Don and then up the road to Moscow; Putin declared him a traitor and spoke of a "knife in the back" of Russia.
Much has been made of the lack of actual fighting between Russian forces and the renegade Wagners. Albats insists that was Putin's choice since he didn't want Russians killing Russians. Instead, he dispatched two loyal generals to negotiate and encouraged Belarus President Lukashenko—long-time Prigozhin friend and Putin ally—to persuade Prigozhin to stand down. The negotiation worked, probably after the rebel realized that very few top military or political leaders were willing to support him. The Wagner troops decamped to Belarus and Prigozhin has disappeared.
What are the immediate lessons of this tragi-comedy that might not yet be complete? Albats drew some lessons:
"First of all, another total failure of Russian intelligence. American intelligence knew that Prigozhin was conducting preparations for this assault on Moscow, at least three days before."
"Prigozhin and his 4000 men managed to go from the border of Russia…all the way close to Moscow, and there were no police, no riot police, no special forces, no FSB, no military groups, nothing…This system is so deadly corrupted that even when it needs to defend itself, forget about the people, it also failed."
"There is a crack at the very top of the nomenklatura of Russian power…People sat on the fences waiting to see who was going to win…None of the top nomenklatura guys made any statement in defense [of Putin].
And then what? For Yevgenia Albats hope may be the father of the thought: "It's a question whether of weeks or months, we have yet to know. But for sure, this is the beginning of the end of Vladimir Putin."
What do you think? Will Putin be overthrown? TELL US WHAT YOU THINK BY COMMENTING BELOW
***
Yevgenia Albats recently spoke with Alan Stoga as part of the Tällberg Foundation's "New Thinking for a New World" podcast series. Listen to their conversation HERE or find us on a podcast platform of your choice  (Apple podcast, Spotify, Google podcast, Youtube, etc).
---
ABOUT OUR GUEST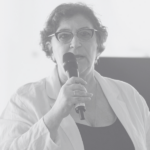 Yevgenia M. Albats is a Russian investigative journalist, political scientist, author, and radio host. She has been a non resident Senior Fellow, Davis Center for Russian & Eurasia Studies, Harvard University, since 2020.
Since 2007 she has been the Political Editor and then Editor-in-Chief and CEO of The New Times, a Moscow-based, Russian language independent political weekly. Since 2004, Albats has hosted Absolute Albats, a talk-show on Echo Moskvy, which was the only remaining liberal radio station in Russia until recently. Both The New Times and Echo Moskvy have been blocked by the Russian government in the last weeks. Yevgenia now works only on a virtual private network and her show has been moved to her YouTube channel.
Albats received the Golden Pen Award in 1989, the highest journalism honor in the then-Soviet Union. She was an Alfred Friendly Press Fellow assigned to the Chicago Tribune in 1990, and a Nieman Fellow at Harvard University in 1993. She graduated from Moscow State University in 1980 and received her Ph.D. in Political Science from Harvard University in 2004. She is a member of the International Consortium of Investigative Journalists (ICIJ) since its founding in 1996. Albats taught at Yale in 2003-2004. She was a full-time professor at Moscow's Higher School of Economics, teaching the institutional theory of the state and bureaucracy, until 2011 when her courses were canceled at the request of top Kremlin officials.
In 2017 Albats was chosen as an inaugural fellow at Kelly's Writers House and Perry House at the University of Pennsylvania. In 2019 — 2020 she taught authoritarian politics at the University of Michigan in Ann Arbor.
Albats is the author of 4 books, including The State Within A State: KGB and Its Hold on Russia. Past, Present and Future (Germany 1991, Russia 1992, United States and other countries 1994-1995).