Jan Eliasson—Swedish and global diplomat, former Deputy Secretary-General of the United Nations, accomplished conflict mediator—considers himself a "concerned optimist."  As he surveyed the world in a New Thinking for a New World podcast with host Alan Stoga, sometimes he seems more concerned than optimistic—and that troubles him.
"I am now very worried about where we are. I see multilateralism in crisis. I see polarization, not only between nations, but inside nations, getting more and more nasty. I see political forces at work, which bring out almost the worst in us."  Eliasson described a grim world: increasing inequalities in most democracies; growing poverty and hunger in Africa, Asia, and South America; "hoarding," "rivalries," and "borders," instead of cooperation and sharing within the European Union; mistrust and growing confrontation among Great Powers; more frequent and more deadly proxy wars in the Middle East, the Caucasus, and Africa; the development of a new generation of nuclear weapons and the rising existential threat of nuclear war.
He pointed to the Doomsday Clock maintained by the Bulletin of Atomic Scientists that now shows "two or three minutes to midnight…usually it was five to 10 minutes." Indeed, Eliasson said that, by early next year, "we may have no agreement whatsoever to regulate the nuclear issues between U.S. and Russia, which is absolutely extremely dangerous."
It's not a pretty picture, especially for someone who has spent his long diplomatic career working to make the forces of good more muscular. What went wrong? More importantly, how can it be corrected?
Eliasson's answer started with the United Nations, an institution that is currently celebrating its 75th anniversary. Eliasson has been closely associated with the UN over the past decades: it shaped him and he has helped shape it. He believes that, "The UN charter is one of the best drafted documents that I've ever run across. It covers the principles that should guide our action. It sets the direction forward for international cooperation." Indeed, "I think the UN has aged well, and I think the UN charter, and the institution as such, could adapt to the times in which we live now, if the member states are willing to do so."
That's the big question for Eliasson.  "The UN will be, as always, a reflection, a mirror of the world as it is. The world is in pretty poor shape today. And thus, almost automatically, the UN also is in poor shape." The problem lies with the severe tensions among the most powerful countries. "We have landed in a situation of very deep mistrust. I think it has increased rather drastically the last four or five years. When I left the UN, we could still have discussions in the corridors and find pragmatic solutions to most issues, perhaps except Syria. But now it seems like the dialogue is extremely poor."
Perceptions of the U.N.
Eliasson is the sort of leader who instinctively looks for solutions. How to overcome the "deficit in dialogue" that he perceives globally? "We need to have the methods of diplomacy refined and brought up in front of everybody," citing chapter six of the UN charter that lists eight different methods. How to confront the growing nationalism in Europe and the United States? "Take away the border lines between national and international" and encourage "enlightened self-interest to choose a direction which is good for nations, but also for the world community."
If there is one thing that Eliasson is sure of, it is "that good international cooperation [and] good international agreements are in the national interest of nations."This is not only because of his deep commitment to multilateralism, but also because he is profoundly pragmatic. "You can't deal with migration issues or climate change or pandemics from a national perspective; they are global issues." Indeed, solutions require a division of labor between national and international actors. It also requires "a wake-up call for good governance—good governance that mobilizes these forces at home and abroad in different categories."
Of course, goodwill—if it can somehow be mobilized—needs a good plan.  And Eliasson has a plan or, rather, he played an important role in helping birth the Sustainable Development Goals (SDGs) in 2015. Quoting a Swedish environmental scientist, Eliasson described the SDGs as "the survival kit for humanity…17 goals, 169 targets. It's like a great to-do list for the world."  
The massive resources that are being mobilized to cope with Covid-19 and its consequences are an opportunity: "One of the great things to achieve would be to have a logical bridge between the fighting the pandemic and fighting climate change, and using the SDGs as the tool to get there." He also hopes that those resources could help the many millions of people around the world who have been pushed back into extreme poverty to recover towards a sustainable future.
Eliasson is a veteran of too many negotiations and mediations to count; that he keeps at it today—he has been involved in the evolving Nagorno-Karabakh situation—reflects his deep belief in the power of rational conversation as well as his experience that, sooner or later, enlightened self-interest wins out. Those are core elements of his worldview. So, too, is belief in the "enormous potential in the power and role of women on the one hand, and the power and role of youth." By way of example, he pointed out that, engaging women leaders in his mediation efforts brought "the human dimension" into the negotiations with profoundly positive effect. And he is a champion of engaging youth because "they have an absolutely clear sense of what is right and wrong," that is too often missing in politics.
Women, youth, muscular forces for good, values, enlightened self-interest, leadership: all core elements of Eliasson's cautious optimism that the world can get to a better place. And, individual responsibility underpins everything.
As he pointed out, "The first three words of the UN Charter are 'We the peoples,' not 'We the governments." 
People power wins out.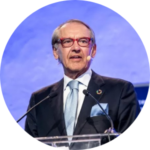 Ambassador Jan Eliasson is a well-known Swedish and international diplomat. He was Deputy Secretary-General of the United Nations from July 2012 to December 2016 and Sweden's Minister for Foreign Affairs in 2006. Furthermore, he was President of the 60th session of the UN General Assembly in 2005–06; the UN Secretary-General's Special Envoy for Darfur in 2007–08; the first UN Under-Secretary-General for Humanitarian Affairs, 1992–94; and participated, 1980–86, in the UN mission mediating in the Iran–Iraq War, which was headed by former Prime Minister Olof Palme of Sweden.
The Swedish Government appointed Ambassador Jan Eliasson, in 2017, as the Chair of the SIPRI Governing Board.