"If we extend unlimited tolerance even to those who are intolerant, if we are not prepared to defend a tolerant society against the onslaught of the intolerant, then the tolerant will be destroyed, and tolerance with them." Karl Popper in The Open Society and Its Enemies Financial Times.
Popper, an Austrian philosopher who had fled the Nazis, wrote those words as he came to grips with how the Nazis had infiltrated and overrun liberal European societies.
Fast forward to today. Elisabeth Braw, writing in the Financial Times, cited Popper's thinking about the risks of tolerating the intolerant as she explained the recent explosion of terror threats on Sweden following incidents of Koran burnings. Although the Swedish government condemned the burnings, it could not prevent them essentially because of freedom of speech protections in Swedish law.
So Sweden finds itself in a double bind: it badly wants to stop Koran burnings, but to do so it would have to undermine a key aspect of its liberal democracy. Of course, that dilemma is not unique to Sweden in this era of violent hyper-partisanship.
Braw is senior fellow at the American Enterprise Institute. Listen as she explores the potential consequences of being too tolerant in this episode of New Thinking for a New World.
What do you think? If Sweden could find a way to outlaw desecration of the Koran (and other holy books), would the terror threat disappear? And would that justify limiting freedom of expression?
Listen to the episode here or find the New Thinking for a New World podcast on a platform of your choice (Apple podcast, Spotify, Google podcast, Youtube, etc).
---
ABOUT OUR GUEST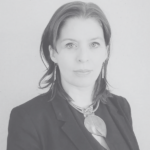 Elisabeth Braw is a senior fellow at the American Enterprise Institute (AEI), where she focuses on defense against grayzone threats. She is also a columnist with Foreign Policy and Politico Europe, where she writes on national security and the globalized economy, and the author of The Defender's Dilemma: Identifying and Deterring Grayzone Aggression (2022).  Elisabeth is a member of GALLOS Technologies' advisory board, a member of the UK National Preparedness Commission, an adviser to Willis Towers Watson's research arm and a member of the steering committee of the Aurora Forum (the UK-Nordic-Baltic leader conference).
Elisabeth's book Goodbye, Globalization: the Return of a Divided World will be published by Yale University Press in the new year. She regularly writes op-eds for the Financial Times, the Wall Street Journal, the Times and (writing in German) the Frankfurter Allgemeine Zeitung and is also the author of God's Spies, about the Stasi (2019). Elisabeth attended university in Germany, graduating with a Magister Artium in political science and German literature.