David Kaplan believes that the food he and other scientists are growing in their labs can eventually feed a hungry world.
***
At least one in nine of the almost eight billion people who live on earth are undernourished. As the 18th century economist Robert Malthus forecast, we seem on a path where the planet can't produce enough food for the projected 10 billion people who will be alive in 2050. Climate change and wars will only make the global food situation more precarious.
Is large scale famine inevitable?
David Kaplan, a global leader in the new field of cellular agriculture, doesn't think so.  He believes the steaks and fish fillets that he and other scientists are literally growing in their labs can eventually feed a hungry world.
What do you think? Comment below.
Listen to the episode here or find the New Thininkg for a New World podcast platform of your choice (Apple podcast, Spotify, Stitcher, Google podcast, Youtube, etc).
***
ABOUT OUR GUEST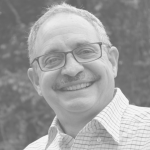 David Kaplan is the Stern Family Endowed Professor of Engineering at Tufts University and a Distinguished University Professor.  He is Professor and Chair of the Department of Biomedical Engineering, with a joint appointment at Tufts Medical School and in the Department of Chemistry.   His research focus is on biopolymer engineering, tissue engineering, regenerative medicine and cellular agriculture.  He has published over 1,000 peer reviewed papers, is editor-in-chief of ACS Biomaterials Science and Engineering and he serves on many editorial boards and programs for journals and universities.  He directed the NIH P41 Tissue Engineering Resource Center (TERC) that involves Tufts University and Columbia University for 15 years.  His lab has been responsible for over 100 patents issued or allowed, and numerous start-up companies.  He has also received a number of awards for his research and teaching and is an elected Fellow of the American Institute of Medical and Biological Engineering and the National Academy of Engineering.