Ronald Deibert is fighting back against digital predators to protect citizens and civil society. Listen as Ron explains how Citizen Lab does the voodoo they do so well.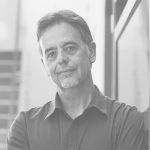 Ronald J. Deibert, Director of the Citizen Lab (CL) at the Munk School of Global Affairs & Public Policy, University of Toronto, Canada.
At a time when ubiquitous use of information technology has led to increasing and widespread abuses of power by governments and the private sector, Ron Deibert has been a leader in pushing back.  He is internationally renowned and respected for identifying emerging threats to civil society and democracy in the digital space. Under Deibert's direction, the CL conducts pioneering, peer-reviewed research, and pursues high-level strategic policy and legal engagement at the intersection of information and communication technologies, human rights, and global security. The CL's published outputs are widely seen as an early warning system identifying rising threats to human rights. Deibert is leading the development of the world's first Digital Accountability program which will strengthen the CL's capacity to respond to and anticipate digital trends, and establish an applied research and education model that is both sustainable and replicable to support the growing rights and digital accountability movement.
---
We live in an always on, hyperconnected, digital society. Almost every aspect of our lives now has a virtual element, which means we leave endless trails of data to be hoovered up for good and for evil. Unfortunately, some of the results include cyber crime, illegal spying, harassment, cyber intimidation and identity theft.
It's bad enough when these activities are aimed at you or me; much worse when they target dissidents, crusading journalists, citizens who are pushing back against government oppression.
That's where Ronald Deibert and the Citizen Lab at Munk School of Global Affairs and Public Policy at the University of Toronto come in. Ron and his colleagues are in the business of fighting back, using cutting edge technologies to protect citizens and civil society from digital predators.
Listen as Ron, a finalist for the 2021 Tallberg-SNF-Eliasson Global Leadership Prize, explains how Citizen Lab does the voodoo they do so well.
Let us know what you think and comment BELOW.
Click on the button to listen to the episode or find us on a podcast platform of your choice, (Apple podcast, Spotify, Acast, Stitcher, YouTube, etc.